So you may be wondering, I've heard of something like this before.   Aren't there a ton of different small dollar or payday loan alternative products on the market?  
Why is an Impact Loan from The Community Impact fund unique?   
The short answer is yes, there are dozens of small dollar loan products on the market.  In fact, we did exhaustive research and found over 25 different loan products that ranged from FinTech, traditional banking products, CDFI's,  non-profit or even government loan alternatives for that you could tap into.
However, the research we did was to take a unique set requirements that we believed were missing in our ability to truly impact the lives of people in our community and to be the key to financial well-being for all.  
Some of these requirements were based on our learning of how to drive long term behavior change and how to respect the dignity of the people we are helping in the process.   The key was both giving and hand up and not a hand out and also building a product that is fundamentally better than any of the predatory lending alternatives available on the market in order to eliminate the demand for those products.   
Some of those key requirements include the loan amount, the timing of the payout, the term, repayment rate, how flexible the payback is, and how it helps people change their behavior so that they can go from borrowers, to savers to generous givers themselves.  
Here is a short glimpse of some of the research that we did.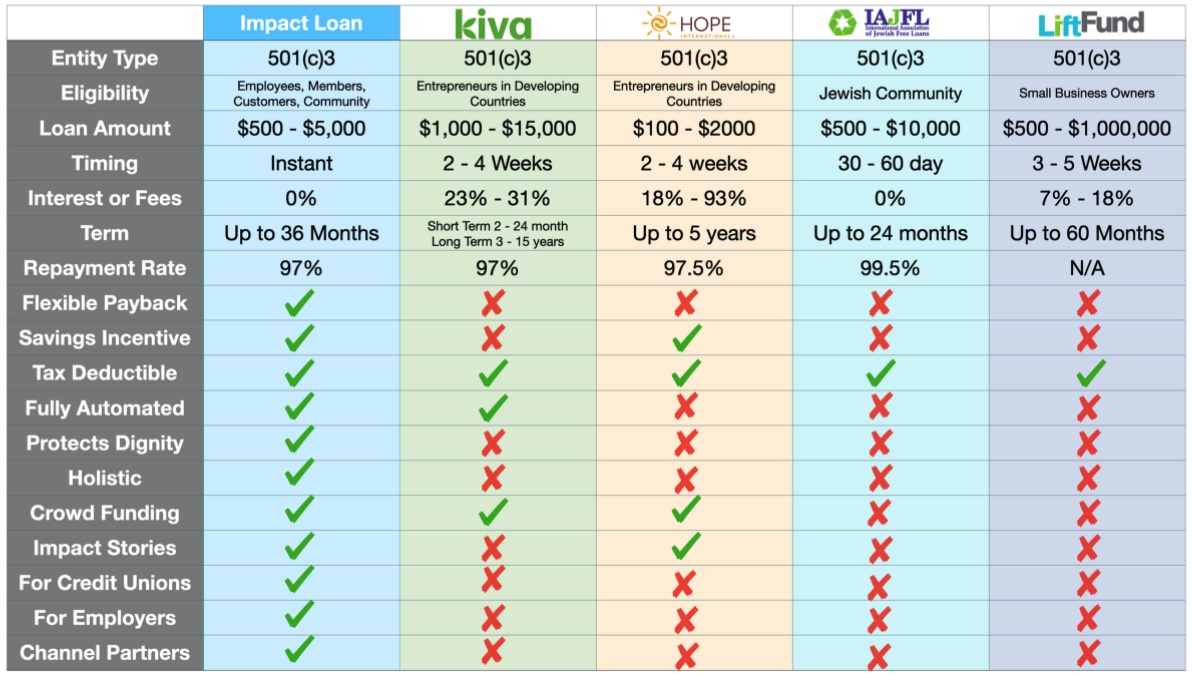 We immediately realized that there was a large gap in the market and that there was a new product that needed to be built, that combined these key elements.
When looking at Kiva,  Hope International,  Lift Fund, Earnin, PayActive, Q-Cash or any of the others,  none of them really combine those product requirements that we saw as being key to solving this problem in both a sustainable and scalable way in communities worldwide. 
So this is how the impact loan is different.  We are adding up all of the key requirements in designing a product from the ground up to tick all of those boxes that we believe are required for your organization to be the hero towards these households who are  struggling with their finances but seeking financial well-being.
These are the key features that we have intentionally designed into an impact loan.